Your Local Professional Concrete Construction Experts New Plymouth
Looking for New Plymouth concrete construction experts? Look no further than New Plymouth Concrete Contractors! Residential & Commercial concrete specialists!
Concrete Formwork & Slabs
Concrete Driveways, Patios and Paths
Concrete Cutting
Residential & Commercial

New Plymouth Concrete Contractors are your professional and affordable concrete specialists based in New Plymouth. We're proud of the fact that we can meet all of your concrete needs in an excellent way. From driveways to paths, slabs, and more, we have the skills and experience to give you high-quality work that meets your needs.
Our skilled professionals are committed to giving you personalized service and making sure that every job we do is done to the highest standards. We only use the best materials to make sure that your project will last and look good for years to come.
If you want to increase the value of your home or just make your outdoor living space better, our concrete laying services are the way to go. Because we pay close attention to details and work hard to make sure our customers are happy, you can count on us to give you results that are better than you expected.
Get in touch with us right away to find out more about our services and how we can help you get the results you want. We're excited to work with you.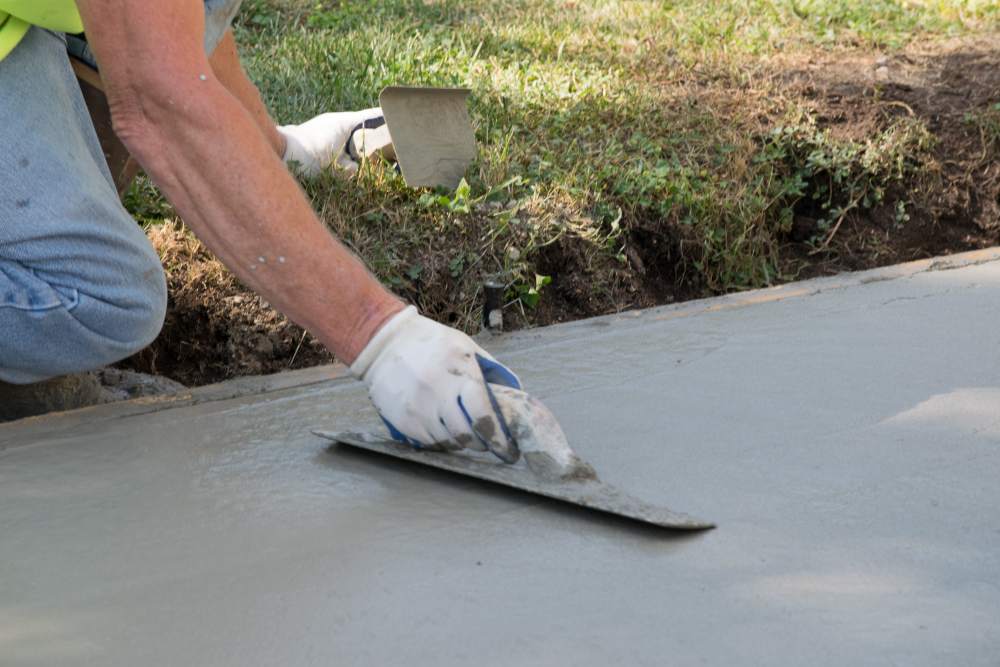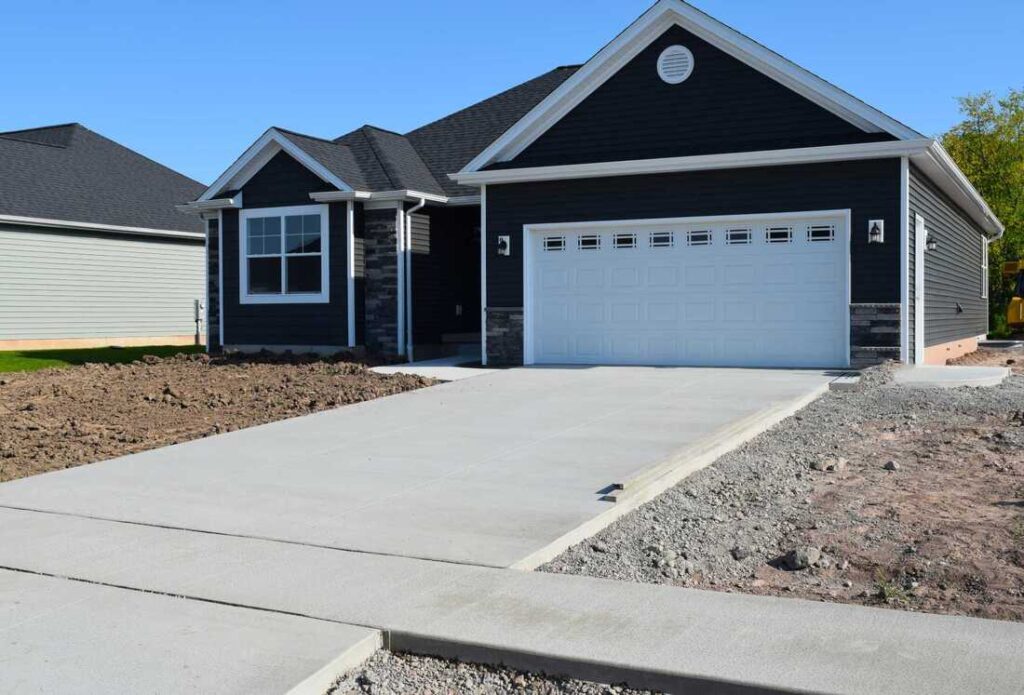 Our New Plymouth Concrete Services
New Plymouth Concrete Driveways
Looking for a local concrete driveway contractor? We've been providing quality concrete driveways and parking surfaces throughout New Plymouth since 2002. Proper preparation is essential for a long-lasting driveway. We will excavate and compact base metal in your driveway area to create a solid foundation, and reinforcing mesh can provide additional strength and longevity to the life of your concrete.
We'll dig up your whole yard to make room for a new driveway. We'll remove stubborn roots and rocks, too. If you need a pathway or retaining wall for your new driveway, we can do that—our concrete driveways, pathways, and patios are guaranteed to last. We work with clients in both residential and commercial settings, who depend on us for quality parking surface solutions.
Learn more about our New Plymouth Concrete Driveways.
New Plymouth Concrete Patios & Paths
Want to enhance your home or business with a concrete path or patio area? Try a well defined patio area or pool surround. Or maybe you need some concrete pathing?
New Plymouth Concrete Contractors has been providing home and business owners with top-quality concrete patios, paths, and other outdoor structures since 1989. We offer coloured concrete finishes to fit your style and needs. We also offer concrete services that provide options for creating borders, patterns, and other features that blend your concrete with the surrounding landscape.
Learn more about Concrete Patios.
New Plymouth Concrete Slabs and Formwork
New Plymouth Concrete Contractors has been laying concrete slabs for decades, and we're ready to help you with your small residential project or larger commercial work. We specialize in concrete work.
Slabs are poured straight onto the ground, providing a flat, level surface for many types of buildings. They are cost-effective and can be used for new homes, gardens, garages, or sheds. Concrete slabs from New Plymouth are often used to create basketball courts and places for kids to ride their bikes or scooters without having to go near busy roads. We also provide concrete resurfacing when needed.
New Plymouth Concrete Cutting
We're happy to provide a range of concrete cutting and drilling services, from foundation cuts on residential properties to decorative work and drilling on commercial or industrial sites. We offer the highest level of expertise and support and have built up an enviable reputation in the New Plymouth region by being reliable, providing expert service that is cost effective.
We provide a prompt and friendly concrete cutting and drilling service on site, and we make sure that our ongoing training reassesses our work to ensure that it's the best in the business.
Why Choose New Plymouth Concrete Contractors?
We will deliver cement directly to your home, provide repair, maintenance and cleaning services for all types of cement applications, and make every effort to provide the highest quality service possible. Our years of experience in the industry have taught us what our customers need and want. We also provide New Plymouth landscaping services.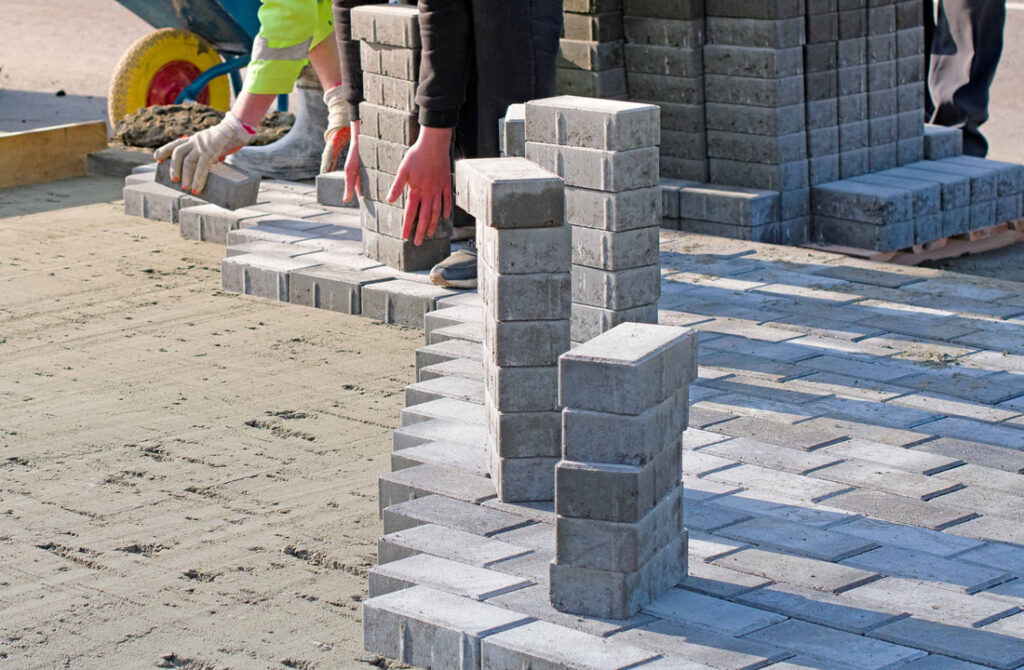 Our New Plymouth Concrete Driveway Services
Since 2002, we have installed new concrete driveways and removed and replaced parking lots and existing driveways all across New Plymouth. The key to durable concrete driveways is careful planning. A firm foundation is created by excavating and compacting base metal into the driveway area, and reinforcing mesh can extend the strength and durability of your concrete.
We provide comprehensive site excavation and preparation services, including the removing of obstinate rocks and roots. Our concrete driveways, paths, and patios are guaranteed to last, so if a footpath or retaining wall is needed to support your new driveway, we can also build those. Both residential and business clients who depend on us for high-quality parking surface solutions have worked with us in the past.
Residential Or Commercial Concrete Driveways
For any home or commercial concrete driveway project, we provide a variety of treatments, from plain and coloured to exposed aggregates and realistic-looking patterned patterns. You'll be involved at every stage of the project's management because we'll oversee it from planning to conclusion.
Exposed Aggregate Concrete Driveway Finishes
Consider an exposed aggregate finish if your driveway, walkway, or other outdoor area needs a makeover. Your home or place of business can have the distinctive appearance you want by exposing aggregate. It is quite durable and can mix in well with any environment if done right.
Concrete Driveway Cleaning and Sealing
You get much more than just concrete when you choose New Plymouth Concrete Contractors. Additionally, we provide a cleaning and sealing service that will preserve the beauty of your concrete driveway for many years. We also provide concrete resurfacing when needed.
Coloured and Stamped Concrete Finishes and Designs
Stamping and other decorative finishing techniques can be what you're looking for if you're looking for something unique. Our staff can collaborate with you to create a decorative concrete design that fits your needs and aesthetic.
Our Concrete Installation Process
We'll pour your concrete with the right equipment and capacity. We have what you need, and we'll deliver it quickly. Pouring concrete yourself may seem like a good idea—but it will probably just end up hurting your exterior. Once our team of experts pours your cement, they'll make sure it's level and finished correctly. We can also help with concrete resurfacing where necessary.
Concrete Coating
Applying this technique to concrete can strengthen and protect it, making it more durable and less likely to need maintenance. If you look online and find some DIY guides, you might try to do it yourself—but this often results in more harm than good. Only skilled New Plymouth concrete contractors should apply coatings, which will save you money in the long run.
When it comes time to paint your house, most people expect the paint to last only a few years before it looks faded, but they don't understand that the weather and daily traffic also take a toll on your exterior. This is why it's vital to create a lasting product that won't need to be updated or fixed in the near future.
Need concrete by the back yard?
We'll come out and see how much square footage you need and what area of your yard you want covered. We'll bring exactly the amount of concrete you need—but if you need more, we can provide it. We also offer colored concrete for decorating your yard in any way you like. Our company is based in New Plymouth and we work with both residential and commercial customers. Our experts will arrive with trucks, sand and cement to deliver fast but high-quality service to all of our customers. Choose from a range of our favourite concrete finishes that suit you!
Does stamping concrete weaken it?
A stamped concrete patio will not become slippery if it is poured correctly and allowed to cure for 30 days before use. The longevity of your patio depends on the quality of materials used and how well it was poured. If you previously got a stamped New Plymouth concrete patio and are finding that it has become slippery, this is probably because the service was not done properly. Check out our partners abroad for concrete patio installation assistance.
Professional contractors from our company are trained and knowledgeable about the products we sell. They will be happy to answer any questions you may have, and they will ensure that your concrete is layed amazingly!
Ground Up Concrete Contractors is a reputable company in New Plymouth that specializes in offering top-quality concrete laying services. Our company has substantial experience in both the management and completion of projects using concrete from the ground up. We prioritize the satisfaction of our clients, ensuring that our work meets their requirements and expectations.
Concrete pouring, finishing, and repair are just a few of the many services that we do as a reputable concrete contractor in New Plymouth. Because of the specialized abilities and experience that our team of professionals possesses in working with various types of concrete, we are able to guarantee that the results that we offer will be of a high quality while staying within our allotted budget.
Because we at Ground Up Concrete Contractors are aware that every construction project is one-of-a-kind, we tailor our services to each individual customer's requirements. We ensure that our work is of the greatest quality by utilizing new techniques and cutting-edge technology. This helps to ensure that the concrete will last for a very long time and will be very durable.
For all of your concrete driveway requirements in New Plymouth, we are the company to turn to. Whether you need a new driveway or to repair an existing one, our team of specialists can provide you with experienced advise on the best solutions for your job. We make it a point to check that everything we do complies with the relevant safety legislation and standards.
In conclusion, Ground Up Concrete Contractors is the company that you should rely on if you need services related to the laying of concrete in New Plymouth. We are convinced that, thanks to our experience, competence, and dedication, we will be able to offer quality results that are in line with your particular requirements and expectations. Call us today to learn more about our services and how we can help with your project.
Our New Plymouth Concrete Service Areas
Whalers Gate
Moturoa
Marfell
Blagdon
Hurdon
Lynmouth
Westown
Ferndale
Frankleigh Park
Vogeltown
Brooklands
Welbourn
Strandon
Highlands Park
Merrilands
Mangorei
Fitzroy
Waiwhakaiho
New Plymouth's Leading Concrete Company
Are you a homeowner in New Plymouth looking for high-quality concrete services? Look no further! Our team at New Plymouth Concrete is here to provide you with the best concrete services in the area.
With years of experience and a commitment to excellence, we are your trusted source for all of your concrete needs. From driveways and sidewalks to patios and floors, we have the expertise and knowledge to handle any concrete project, big or small.
Our team of skilled professionals is dedicated to providing you with the highest level of customer service and quality workmanship. We use only the finest materials and the latest techniques to ensure that your concrete surfaces are durable, long-lasting, and beautiful.
In addition to our expert concrete services, we also offer a wide range of decorative options to help you create the perfect look for your home. From stamped and stenciled finishes to colored and exposed aggregate, we have the ability to create a wide range of unique and personalized looks that will add beauty and value to your property. We even offer a concrete calculator to help you get an idea of prices.
If you are a homeowner in New Plymouth looking for top-quality concrete services, contact us today to schedule a consultation. Our team is ready to help you create the beautiful and functional concrete surfaces you have been dreaming of. Let us show you why we are the go-to source for all of your concrete needs!
Frequently Asked Questions
Where can New Plymouth residents find concrete layers?
Homeowners in New Plymouth can locate concrete layers by conducting a search online for local concrete contractors or companies, using local directories, or soliciting recommendations from family and friends.
What factors should homeowners take into account when searching for concrete layers in New Plymouth?
While searching for concrete layers, homeowners in New Plymouth should take into consideration a number of different variables, including experience, reputation, license, insurance, pricing, and warranties. In order to evaluate the quality of the work, it is vital to both inquire about references and review previous projects.
How long does it take to install a concrete driveway in New Plymouth?
The amount of time required to create a concrete driveway in New Plymouth is contingent on a number of factors, including the scale of the project, the accessibility of the site, the climate, and the type of concrete that is utilized. Yet, the installation of a conventional concrete driveway might take anywhere from one to two weeks from start to completion.
Can New Plymouth residents select the color and pattern of their concrete driveway?
Yes, property owners in New Plymouth have the ability to customize the appearance and layout of their concrete driveways by choosing from a wide variety of concrete finishes, including as stamped, stained, or exposed aggregate concrete. Talking to an experienced concrete layer can also provide valuable insight into the various possibilities that are accessible.
What are some of the best practices for maintaining a concrete driveway in New Plymouth?
To maintain concrete driveways in New Plymouth, homeowners should avoid using strong chemicals or abrasive tools, clean up any spills or stains as soon as possible, and apply sealant every two to three years to protect the surface from deterioration and increase its lifespan.
What should New Plymouth homeowners do if their concrete driveway cracks?
In the event that cracks appear in a concrete driveway in New Plymouth, the property owners should confer with a qualified concrete layer to evaluate the level of damage and select the most appropriate approach for making repairs. The smaller the fracture, the more likely it is that it can be filled with an appropriate filler. Nevertheless, larger cracks might need to be reinforced or replaced.
Is it possible for homeowners in New Plymouth to lay concrete even when the temperature is cold?
Homeowners in New Plymouth are able to build concrete even when the temperature is below freezing, but they must take particular precautions to prevent the concrete from freezing. These include the use of warm water, insulating blankets, and additives. In order to guarantee effective installation in cold weather circumstances, consulting with a qualified concrete layer is recommended.